| | |
| --- | --- |
| | |
| Want to Join All Indicators VIP Access | |
| Purchase Any 3 Indicators from this Website only for 400$ | |
| Purchase Minimum Any 2 Indicators From this Website and Get 50% Discount If You Pay Crypto Payment | |
| | |
| | |
| Join Telegram and Get Best Discount Offer Indicator | |
50 Pips Scalping Indicator
Hello dear Traders,
This is our best Forex Trading Indicator.
100% Non-repaint Indicator and accuracy 85-95%+
This is the world's best Indicator for Scalping.
Its name "50 Pips Scalping Indicator"
This indicator is very easy to use for beginners And fully automatic.
It will never expire and there are NO "monthly fees"
or NO any other recurring charges for use

File type and requirements:-


This is a digital item! (Download links–zip file)
You will Need: MT4 terminal
The files you'll get is ZIP archive.
Indicator Installation Service is Free :- If you don't know how to install the indicator. Contact me I will install mt4 Indicator in your Pc/Laptop with TeamViewer software
HOW TO USE:-
FOR SELL ENTRY:-
1. First made – Red color on the top.

2. Second made – One candle comes under the red color after take Instant Sell entry.

3. This is a manual forex trading indicator, take 50 pips manually.
FOR BUY ENTRY:-
1. First made – Green color on the bottom.

2. Second made – One candle comes up the green color after take Instant Buy entry.

3. This is a manual forex trading indicator, take 50 pips manually.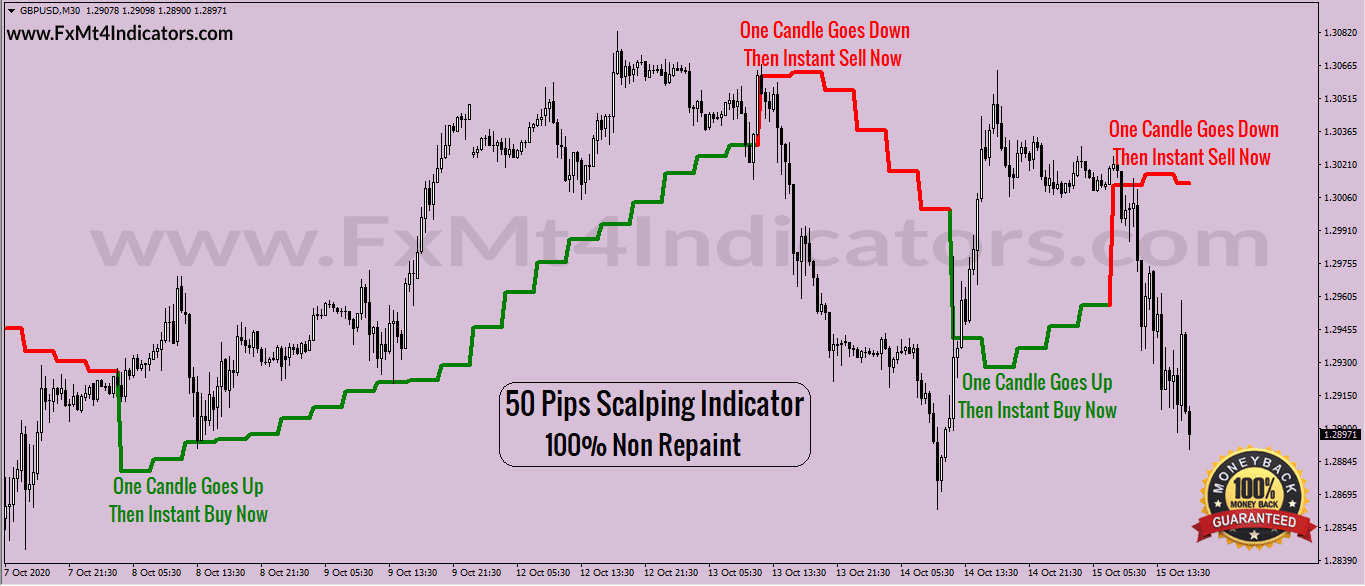 If you are looking for a forex indicator that will make money for you no matter the market condition you are in a write place. 50 Pips Scalping Indicator is very accurate just follow this indicator and you will make money
This indicator will make you successful in the market every time regardless of your trading knowledge in the forex market
Do you know why? this indicator does not repaint and I know that that is the type of forex indicator that every forex trader needs.
Important things you should know about 50 Pips Scalping Indicator :-
Amazingly easy to trade
Find oversold/overbought situations
Enjoy noise-free trading at all times
The indicator analyzes its own quality and performance
The indicator needs no optimization at all
The indicator is non-repainting
50 Pips Scalping Indicator is a trend-following tool and works on crossover signaling methods. From the technical point of view, this indicator is able to detect the reversal points of the market trend and can spot the best possible areas to enter the market within the trend directions.
50 Pips Scalping Indicator is a versatile trading tool that can be applied to trade all kinds of forex currency pairs. Furthermore, this indicator suits all sorts of timeframe charts available within the MT4 forex trading platform.
Which Are the Best Trading Indicators for Forex & CFDs?
The best Forex indicator will be the one that suits your own trading style and psychology. Unfortunately, there is no single trading indicator that is best and fits all trading styles. A trading indicator that works for swing trading may not be the best for intraday trading. The good news is there are a lot of technical indicators available for all trading styles and financial markets. With time and experience, you should be able to find the right trading indicators for you and your preferred trading style.
By using these indicators the investors and traders can make their decisions concerning the entry to the market and the exit from that market. The indicators essentially are used to discover the force of a certain trend and the period when adrift in the trend is to take place. They also assist in the identification of any market participant sentiments and therefore make attempts in predicting possible price trends.
This strategy usually develops in areas where the price regularly approaches it and rebounds afterward. It is a technical analysis technique that analyzes a market chart quickly to discover three main points of interest for the trader.
These three aspects are:
The direction of the market.
The timing of an entry in the market.
Points of exit in the market for either a profit or loss scenario.
Gaining these three things essentially assists the trader in getting a good trading ideology.
Traders usually look to match their desired strategy with the suitable market condition; in this case, the focus is on situations that detail a market giving the trader the best result of success.
It is also important to use simple and clear strategies with the indicators thus allowing for quick reactions to the market based on the gotten data and reduced complications in the whole process.